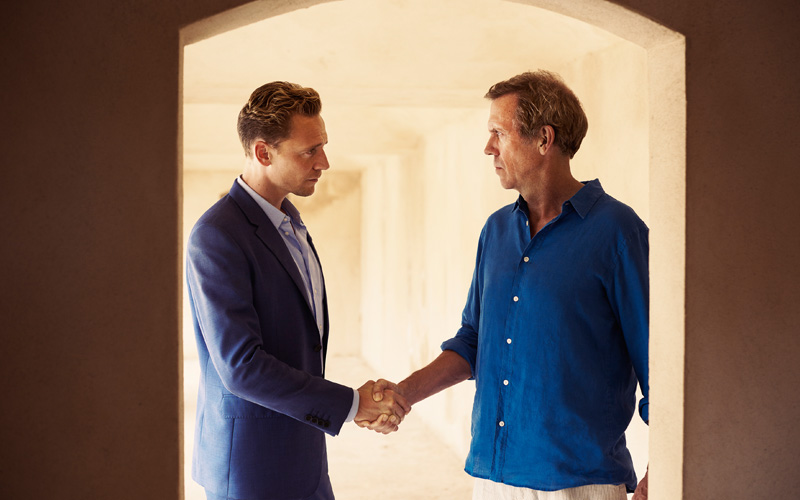 Tom Hiddleston and Hugh Laurie share their thoughts on why you can't afford to miss AMC's new original series, The Night Manager.
Compelling characters, exotic locations, stunning storytelling, masterful direction, a brilliant cast. There are many reasons why AMC's newest original series is so hotly anticipated.
The contemporary adaptation of John le Carre's classic spy thriller follows former British soldier Jonathan Pine (Hiddleston) who is recruited to infiltrate the inner circle of international businessman and illegal arms dealer Richard Roper (Laurie).
It's a tale of lies and deception led expertly by Hiddleston and Laurie in the starring roles and they both honestly believe it is going to blow you away. Here's five reasons they think The Night Manager is unmissable.
1. John le Carré is the master of espionage thrillers
Tom Hiddleston: "I hadn't read the novel before, but as soon as I'd read the script, I sought the novel out. I read the first episode, and from the very beginning, I was completely hooked into the story and the character. I fell in love with it immediately.
"I think John le Carré occupies a unique position in British literature and storytelling. I think he has a singular authority on the subject matter having been in the circus himself, as they say. He is a deeply gifted narrative storyteller and a master of his art, the espionage thriller."
Hugh Laurie: "I fell in love with this book when I first read it back in 1993. I'd worshipped le Carré since I was a teenager, but this story, in particular, I found endlessly intriguing, powerful and romantic, mythic almost.
"Although I've absolutely no skill or instinct for producing, this was the first time in my life I was moved to try and option a book. As I remember it, I tried to get the rights before I'd even finished the third chapter. I was unsuccessful, of course – the great Sydney Pollock had jumped on it and wouldn't let it go – but the character of Pine (and yes, back in 1993, I impudently imagined myself playing Pine…) is a fascinating one: this errant knight roaming the landscape, looking for a cause, a flag to fight for. Better still, to die for. I just found it such a beautiful story."
2. The irresistibly epic locations and luxury lifestyle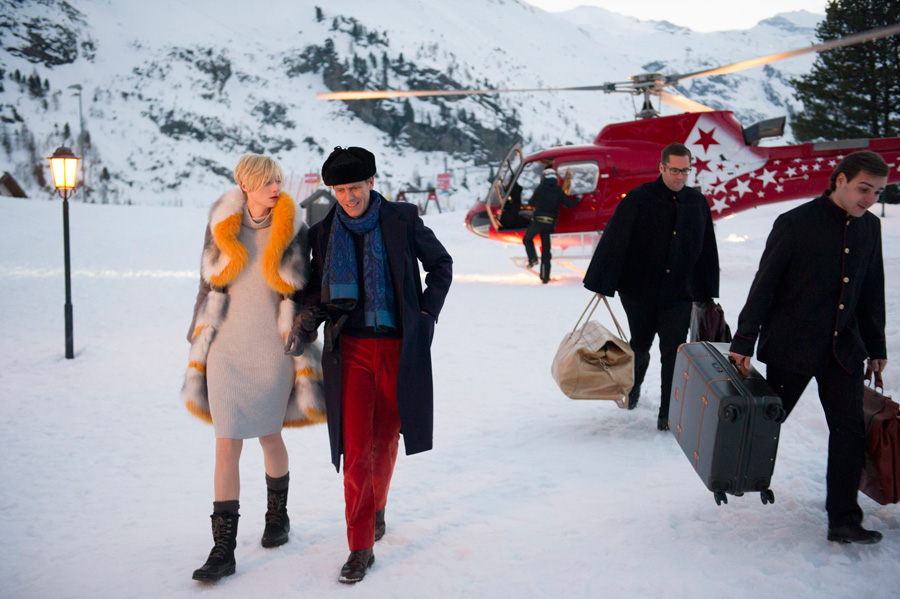 Tom Hiddleston: "The locations have been amazing, truly. This story has enormous scale and ambition and the locations we have been to have added so much texture to that. The Night Manager, as a narrative, has this incredible international breadth, jumping from Cairo in the Arab Spring to the Swiss Alps, London and Devon. In the book, there are scenes in the Bahamas and Cyprus but in our story we have made it Mallorca and the Turkish-Syrian border, Istanbul and Monaco."
Hugh Laurie: "We have been to some absolutely breathtaking places. We began in Switzerland, in Zermatt. It's quite something to open your bedroom window and see the Matterhorn staring down at you. We then spent six weeks in Morocco, before filming in Mallorca for five weeks.
"Not a day has gone by without a member of the cast saying, 'I cannot believe that I am actually here doing this'. It's out of good fortune that we happen to be playing characters who live a very luxurious, jet-setty life and that means in order to do it, we have to live it. It's hard…"
3. Jonathan Pine and Richard Roper are powerful new anti-heroes
Tom Hiddleston: "I play Jonathan Pine who, at the beginning of the story, is a lost soul. He is the night manger of a 5-star hotel in the ski resort of Zermatt in the Swiss Alps, living an almost monastic life, literally and figuratively buried in snow, silence and darkness. He is a former soldier who has served two tours in Iraq.
"The character appealed to me because I knew, as an actor, I was going to have to operate at the highest level of my intellectual and physical ability because he is a field agent, but also has to be smart enough to go undercover.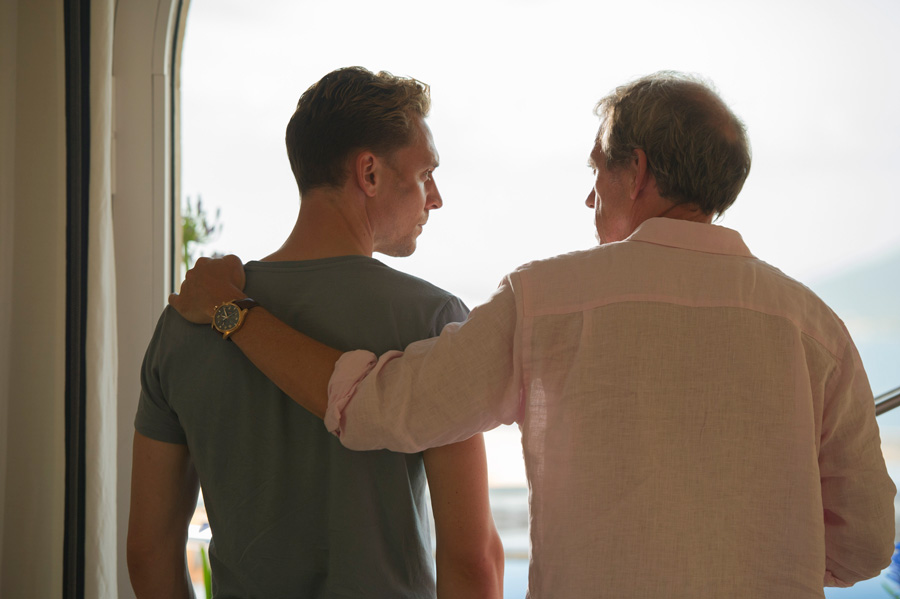 "Richard Roper (Laurie) lives a very luxurious and appealing life which is funded by proceeds from arms deals to the highest bidder. He is living this extraordinary life with private jets, private yachts and houses in the Mediterranean. I think Roper is drawn to Pine because they are quite similar in lots of ways. Roper is a very charming, very charismatic, affable, funny, warm, intelligent, sophisticated Englishman. Someone whose stories you want to listen to, who's a fantastic dinner party guest, fluent and charming public speaker, and has an enormous power for good. The reason he chooses to use that power for ill is why Le Carré – and, in turn, Pine – is so angry with him."
Hugh Laurie: "There are moments when Pine teeters on the edge of the dark side, when you wonder which way he will go. You wonder whether Roper is teetering too – perhaps he wants to be caught, he wants to be betrayed. The audience has to judge for themselves where Pine and Roper are close to crossing the line in opposite directions – where Roper might plunge the dagger into his own chest and where Pine might become the very thing he set out to destroy. It's an absolutely fascinating exploration, and I think this about so much of Le Carré's writing."
4. The determined directing by academy award-winner Susanne Bier
Tom Hiddleston: "Susanne is a crusader for the truth and has an extraordinarily rigorous compass for what seems natural and plausible as sequential storytelling. I don't think I have ever worked with a director who has such an incredibly instinctive authority over what she will allow in terms of what she believes, which is so important in a story like this.
"It is very easy in a spy drama – or in anything that requires a procedural cohesion – for people to make compromises because it looks good or it's easier for the schedule. The excuse is the audience won't see it, but the audience will see it and so does she. With Susanne, the stitching is so fine and intricately woven that there are no loop holes and no fuzzy plot points – she doesn't let anything go and is unbelievably rigorous about story and piecing together the puzzle in an appropriate way so that it really holds as a narrative."
5. It's a modern twist on the classic spy novel that rings true today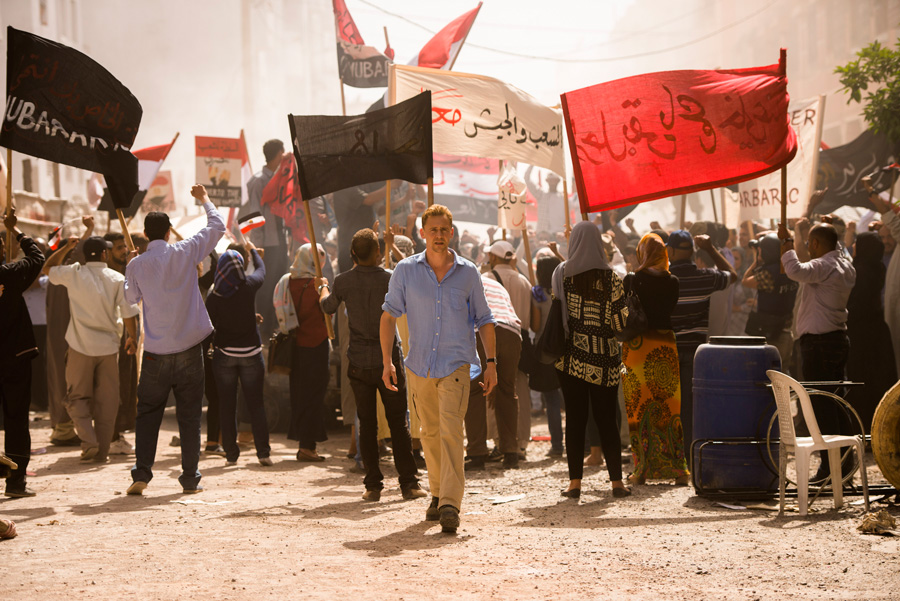 Hugh Laurie: "Usually I would say that trying to make things contemporary is a fool's errand, because events will always overtake you. The original story involved an arms dealer – Richard Roper, who I play – selling weapons to the Colombian drug cartels. And perhaps the cartels seemed less 'relevant' these days but recently a Mexican army helicopter was shot down by the cartels with a surface-to-air missile, and the Mexican government essentially admitted they were at war with an incredibly well-armed force and had no idea where the weapons were coming from. Le Carré writes it, and 20 years later, it happens.
"In any case, we have transplanted the story, beginning with the Arab Spring which began in 2010 (another event, by the way, that no-one saw coming – for all the CIA satellites circling over our heads – no news organisation or intelligence agency predicted it) and moving it to the present day. David Farr, the writer has done an incredible job of reinventing a large part of the story to accommodate a different continent and a different set of events. I hope that we have been able to give it a sort of contemporary freshness while retaining something of that mythic quality."
Don't miss The Night Manager, every Monday night at 20:00 CAT, from 22nd February – only on AMC!