Game of Arms is a look inside the raw and highly competitive world of American arm wrestling. The series follows the members of five regional arm wrestling clubs in Erie, PA, Kansas City, KS, New York, NY, Sacramento, CA and Baton Rouge, LA as they hit the road and wager their reputation, relationships and money for the sport. Game of Arms not only focuses on the technique and skill in this high-stakes world, but also the family, careers and personal struggles of each man outside of the sport. Each episode features a dramatic regional match, leading to a tournament finale where the entire cast will compete for prize money and bragging rights.
The teams and their members:
New York City's Arms Control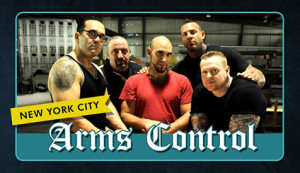 Kevin Nelson, Dan Fortuna, Mike Selearis, Mike Ayello and Rob Bigwood of New York City's Arms Control.
 Mike Selearis is a chemistry teacher and seven-time national champion.
 Rob Bigwood is the only vegan arm wrestling competitor.
 Dan Fortuna can fold a frying pan with his bare hands.
 Kevin Nelson likes playing mind games when he's at the arm wrestling table.
 Mike Ayello was Mr. September in the 2013 FDNY Calendar.
Sacramento's Arm Benders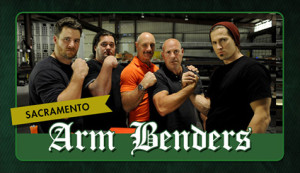 Tom Nelson, Kenny Hughes, Allen Fisher, Mike McGraw and Luke Kindt of Sacramento's Arm Benders.
 Kenny Hughes as a teenager, beat then world-champion Allen Fisher.
 Luke Kindt is a three-time national champion who drag races in his spare time.
 Tom Nelson is a six-time national champion.
 Allen Fisher is a 26-time world champion.
 Mike McGraw lost his leg in a train accident as a child.
Kansas City's Rolling Thunder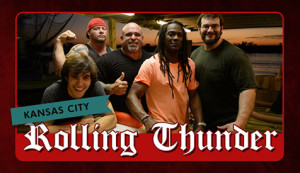 Ethan Fritsche, Bill Logsdon, Don Underwood, Andrew "Cobra" Rhodes and Nick Zinna of Kansas City's Rolling Thunder.
 Andrew "Cobra" Rhodes is a 16-time world champion and a father of five.
 Don Underwood is a former pro wrestler and football player.
 Nick Zinna is a four-time national champion.
 Ethan Fritsche also plays video games competitively.
 Bill Logsdon creates his own custom arm wrestling exercise machines.
Barton Rouge's Roughnecks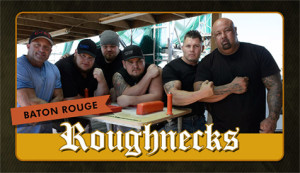 Craig Tullier, Josh "Turbo" Borrow, Derrick Self (sidekick), Matt "Chop" Bertrand, Jerry Avanti and Larry Alexie of Barton Rouge's Roughnecks. (Not pictured: Ray Hennerichs)
 Craig Tullier is nationally renowned as the strongest pound-for-pound puller in the south.
 Larry Alexie is a 39-year-old tugboat captain. He lost his index finger in a tugboat accident.
 Matt "Chop" Bertrand is a two-time national champ with one of the best left hands in the game.
 Josh "Turbo" Borrow uses his left arm to execute his signature move, the Top Roll.
 Ray Hennerichs has been a dominant lightweight arm wrestler for 20 years.
Erie's Wrecking Crew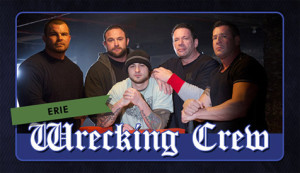 Travis Bagent, Dave Chaffee, John Heynoksi Jr., James Wagner and Bart Wood of Erie's Wrecking Crew.
 Travis Bagent started arm wrestling at 15. His signature move is High Side Pressure.
 James Wagner is a three-time arm wrestling national champion.
 Bart Wood is in the midst of a comeback after popping his bicep during a competition.
 Dave Chaffee is one of the top right-handed super-heavyweights in the world.
 John Heynoski is the son of John Heynoski, Sr., a former world champion in the sport.