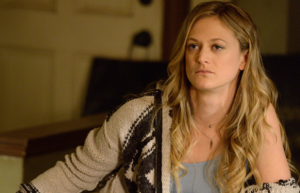 Actress Marin Ireland plays the curious and confident law student Christine Rosa on The Divide. Her character is endlessly searching for the truth, while also growing into an attorney during the show. Find out what made Marin interested in The Divide and some exclusive info on her fave scenes!
AMC: What made you initially interested in The Divide?
Marin Ireland: Well, Tony and Richard, first of all. They have such heart and integrity and intelligence, and I jumped at the chance to collaborate with them. But the chance to give voice to such a profound and thrilling subject was a huge draw–I'm really honoured to be able to raise awareness in the Innocence Project and the work they do.
AMC: What topics are explored in this season that you think are very relevant to today?
MI: The ideas of forgiveness, of finding one's own moral center in an increasingly corrupt world. I think this show is a lot about trying to find a way to keep fighting, to keep moving forward, in spite of all the odds. I think a lot of people can relate to that feeling.
AMC: Tell us about your character's development throughout the first season.
MI: Christine has a lot of secrets, and she works hard to protect herself from any kind of intimacy. She's very invested in being independent and seeming as strong and impenetrable as she can. As the season heats up, those kind of walls just aren't sustainable, and she has to learn how to accept that.
AMC: What is one of your favourite character scenes in the first season? Why?
MI: There were so many! We had some tremendous guest stars this season, so I guess one of the most special moments for me was getting to work with Jane Alexander. She's a legend, and a true hero of mine. I won't say who she plays, but our first scene in particular was so exciting for me.
AMC: What scene was the most difficult for you? How come?
MI: It's purely for a technical reason, but one scene we had to shoot outdoors in Toronto, in the dead of winter, in a full-on blizzard! They kept telling us you the snow didn't read on camera, but that was one of the hardest times I've ever had maintaining focus!
AMC: What can we expect from your character in upcoming season?
MI: Christine is really struggling this season with learning what's most important to her. She doesn't want to rely on anyone, or get too attached to anyone, and she's really trying to resist softening up. She has to face a lot of things from her past in order to grow up a little, and that's never easy for anyone.